Process Servers
USA Express is a Process Service Firm in Los Angeles County, San Francisco, and San Diego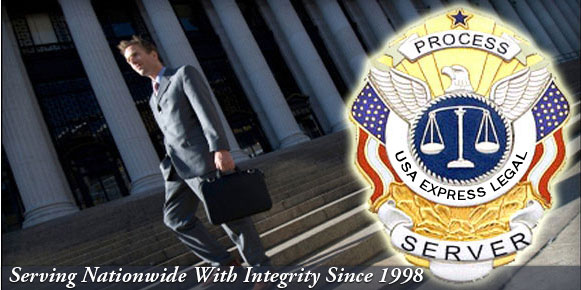 USA Express Legal and Investigative Services, Inc. is a process service firm in Los Angeles County, San Francisco, and San Diego.
Let us serve your civil and criminal documents with our team of process servers. We serve Los Angeles; Orange; San Bernardino; Riverside; Ventura Counties, Northern California, as well as clients nationwide & worldwide. Our experienced team of registered and bonded process servers is among the most trusted. We have a network of legal process servers across California and the United States.. Our legal process servers operate at an unparalleled level of efficiency, and we offer competitive pricing on all services. Call about same-day service of process, courthouse filing, research, and skip tracing.
We are a process service firm in Los Angeles County, and we are also a process service in San Diego. We provide process service investigation in San Francisco. We offer the full range of service of process, and our highly-experienced and knowledgeable team ensures that your process service gets done correctly. We serve locations in California, and we offer process service throughout the United States and internationally. Our prices are affordable for all our services. Please call us and ask about the service you need. Our team is ready to help you.
Services We Offer Include:
Service of Process – Los Angeles, Statewide and National
Ex-Parte Service
Document Preparation
Document Retrieval
E-Filings
Bankruptcy Filings
Court Filing
Notary Service
Postal Searches
Mailing Service
Stakeouts
RUSH Same Day Service
For Immediate Service of Process
 Foreign Country Process Service
Hague Service Convention is a federal treaty enacted in the United States in 1964. We are very familiar with the rules and regulations  of Hague Service Convention. We specialize in serving documents in foreign Countries. When we are retained to effect Hague service on your behalf, we will:
Prepare all necessary treaty documents.
Facilitate service being properly effected, either through the appropriate central authority or our appointed agent
Provide, at no extra cost, supporting affidavits, and assistance, for obtaining extensions of time to serve.
Inform the applicable court or client of status
The USA Express Difference
USA Express is made up of private investigators, legal process servers, litigation support professionals, and insurance adjusters. If our legal process servers complete their job but there is more to do, USA Express can help. For any of your surveillance, court filing, insurance fraud investigations, and more. Call now to speak to our staff. We are ready to show you what were made of!